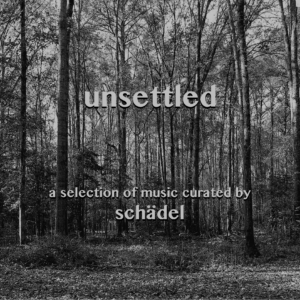 Recently there's been a lot of talk (including from me!) about the score to a recent 80s-throwback horror show on a popular streaming platform. While I do love attention being paid to cool, darkly moody synth music, I do want to point out that there is a ton of cool, darkly moody synth music already out in the world.
To that end, I give you: unsettled.
To capture the mood I was going for, I tried to stick to a few criteria. I looked for prominent, dark synths, often arpeggiated. I tried, for the most part, to avoid other instruments (especially drums, though some do appear here) and vocals. Reverb always helps, too — in fact, I cheated a bit and drenched one of the drier tunes in reverb myself.
Don't worry, though — after all that dread, I did allow the last tune to be a little uplifting, so you'll be able to continue on with your day, a little unscathed.
So, enjoy. Tracklist below.
Disasterpeace, "It Follows: Title" (2015)
Walls/Oram, "Extremely Long Corridor" (196X?/2014)
Daft Punk, "Armory" (2010)
John Carpenter, "Wrong Flavour" (1976)
Johnathan Snipes & William Hutson, "Universal Weak Male" (2013)
Laurel Halo, "Carcass" (2012)
YOU, "Zone Black" (1983)
Makeup and Vanity Set, "The Faceless Man" (2011)
Majeure, "Termination Shock" (2014)
Aperture Science Psychoacoustics Laboratory, "TEST" (2011)
Skinny Puppy, "Love" (1986)
Harper / Russe / St. George, "Nightwalker" (1972)
AFX, "‎ssnb" (1994?)
µ-Ziq, "Sleep" (1991)
(d), "Trust" (2014)
Delia Gonzalez & Gavin Russom, "Black Spring" (2005)
X-TG, "E.H.s." (2012)
Ricardo Donoso, "Klatu" (2014)
OK Ikumi, "Slope" (2012)
Nathaniel Ritter, "Tleilaxu Metaphors" (2012)
Chroma Key, "Come In, Over" (2004)